About

us

With over 30 years experience in private and commercial sectors, Rowse Tree Services offers a professional and comprehensive tree care service across East Devon.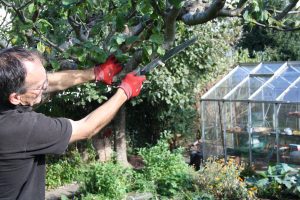 Established in 1985, the business has developed over the years from solely focusing on tree surgery and maintenance to now incorporating our interest in Niwaki (Japanese Cloud Pruning).
Headed up by Andy Rowse (OND Arb, Tech Cert Arbor A, FDsc Arboriculture) Rowse Tree Services' small team is well qualified, caring and environmentally conscious. We take great pride in our excellent customer service, ensuring we are reliable, leave sites tidy, operate safely and are considerate in every element of our work.
Caring for trees and the environment is at the heart of why we do what we do. Ways in which we help tread lightly on the earth are as follows:
We use hand saws where possible, especially for pruning and tree surgery for both accuracy of work and the benefit of reducing noise, fumes and use of hydro-carbons.
We use some battery powered equipment such as hedge cutters charged using renewable energy.
We use plant oil for the chainsaws which is less polluting for the environment and for the operators.
We compost woodchip for use as a mulch or can leave it on site for the customers use.
We can add value to timber by using a planking machine, or cut up suitable firewood into logs.
We prefer to work within a 15 mile radius reducing our carbon footprint and allowing more time on site.
We use local businesses as suppliers and to maintain our machinery where possible.